About Assisted Living in Tanglewood Trace
Our mission: To create environments where moments of joy, independence, and wellness are the focus each and every day.
This is our goal at the Tanglewood Trace location and one shared throughout Ridgeline Management Senior Living communities across the country.
Tanglewood Trace is a 167-suite Retirement and Assisted Living Community, providing quality, compassionate care for senior residents of the South Bend area since 1977.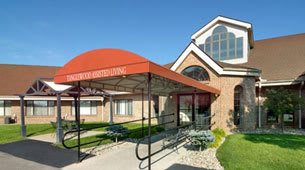 WHAT YOU CAN EXPECT FROM TANGLEWOOD TRACE
7-days-a-week concierge service
Well-trained, caring staff providing unparalleled care and support
Attractive, secure environment, with many opportunities for socialization
An extraordinary commitment to the needs of the residents, 24/7
Customized care plans determined by the individual needs of each resident
Emphasis on what residents can do, rather than what they cannot do
Open communication with family members to ensure appropriate care is given, allowing for as much independence as possible